Polyolefin Additives in Barcelona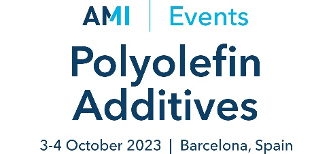 ---
Wells is delighted to announce that it will exhibit at the 14th edition of Polyolefin Additives on the 3rd and 4th of October 2023 in Barcelona, Polyolefin Additives 2023 having participated in the conference function of the event a number of times in the past.
Polyolefin Additives is a very important global annual event where companies are able to explore the challenges, opportunities, and technical advances in the creation and adaptation of additives, masterbatches and compounds.
Wells Plastics Limited is the UK's largest specialist additive masterbatch and compound manufacturer, established in 1984, based in Stone, Staffordshire. Offering a wide range of proprietary additive masterbatches for the polymer processing industry including film, fibre and injection moulding market.
Wells will take the opportunity to promote an expansive product range offering additive masterbatch solutions to enhance polymer stability, lifespan and processability, lightweighting and sustainability technologies such as blowing agents, stabilisers and desiccants for increasing recycled content, through to antimicrobials for hygiene and mass transport settings marketed under the Bactiglas™ brand.
Wells also has extensive experience in providing bespoke contract and toll compounding to the global polymer industry, from a few hundred kilos to thousands of tonnes.
Wells is JOSCAR approved, material developers and product specifiers from high-tech industries such as aerospace, defence and security can select Wells as their additive masterbatch and compound partner with confidence.
The manufacturing facility and equipment is designed and configured to handle materials with complex requirements, capable of dispersing and encapsulating a wide range of active powders, pellets, flakes, waxes, low melting point liquids through to ultra viscous materials into polymer bases from polyolefins to biobased and biopolymer systems.
A recently opened Innovation Centre, with extensive facilities, supports the development of new products and formulations allowing Wells to provide a full-service solution from sample development, product efficacy testing, through to full scale commercial production.
Wells Plastics is ISO 9001 (2015), ISO 14001 (2015) Gold EcoVadis and JOSCAR certified.
Wells Plastics providing solutions…adding value