Dr Gary Ogden receives Award from ASTM
Dr Gary Ogden, Technical Manager of Wells Plastics Limited, was presented with a "Certificate of Appreciation" award by ASTM during the November 2023 Committee Week in Washington DC. The award is in recognition of the participation and active leadership in the development of standards in sub-committee D20.96 on environmentally degradable plastics and biobased products. In particular, the work performed involving the review, revision and renewal of ASTM D6954 on plastics which degrade in the environment through a process of oxidation and biodegradation, since 2014.
Gary has a BSc (Hons) degree in Materials Science from UMIST, a PhD from Loughborough University, a Fellow of The Institute of Materials, Minerals & Mining (IOM3) Chartered Scientist with the UK Science Council.  He is Chair of The Manchester Polymer Group (IOM3 Local Society) and Society of Biodegradable Polymers.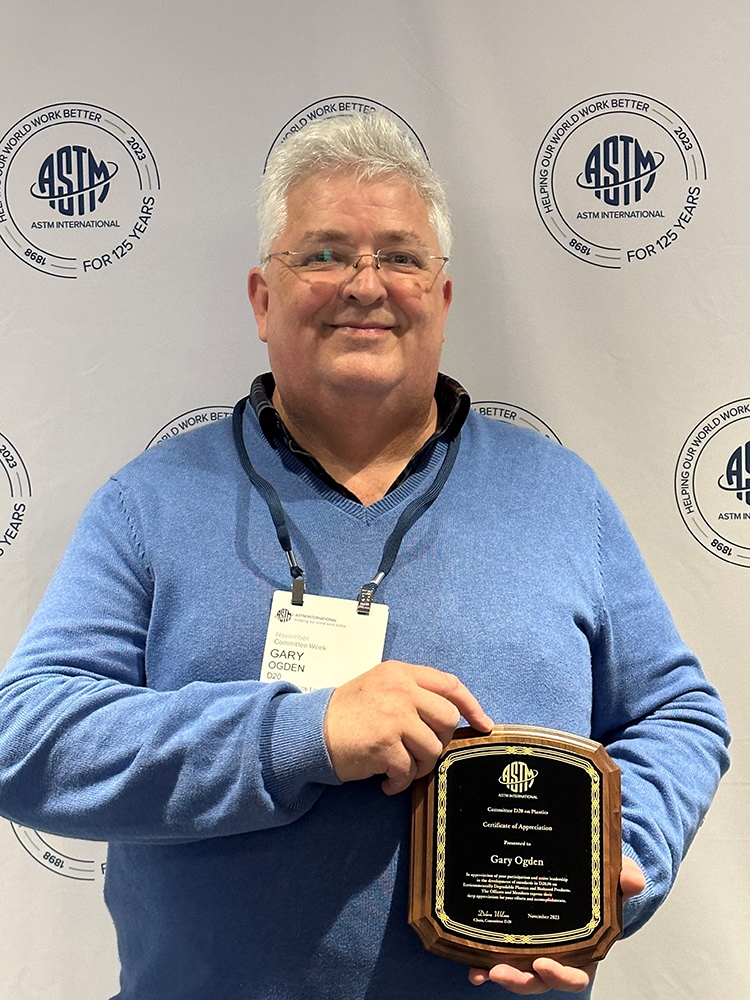 With over 25 years of experience in speciality additive masterbatches and compounds for film, sheet, injection moulding and wire & cable applications, Gary is responsible for the development of novel additive masterbatches, including multi-component, where potentially detrimental interactions are required to be extensively studied to produce optimum quality product.
In addition to being technical lead at ASTM for polymers that biodegrade in the environmentGary is also heavily involved with the regulations and development of standards with various national bodies (BSi, GSA, BIS) in diverse areas ranging from W&C for rolling stock to natural biodegradable environments, providing expert evidence and advice to both UK and EU legislative bodies.